Crepe Paper 101, Part 2
Coming up on a year ago, we launched our very first extra fine crepe paper line. We are extremely grateful for your support and enthusiasm in bringing this dream of ours to life! Our online shop has gotten off to a great start and we look forward to growing things even further in the coming year as we continue to simplify your crafting needs. In celebration of our crepe paper product line, we've put together a couple of video tutorials on how to make crepe paper flowers. Whether or not you have much experience in crepe paper crafting, this is the place to start! Check out our first video here. Paper flowers are a favorite of ours here at Lia Griffith – an easy and beautiful way to liven up a space and bring a smile to a loved one's face. You'll be surprised at how fun and simple these are to make. Give it a try and let your creativity blossom!
In this second part of our How To Make Crepe Paper Flowers video series you will learn how to…
Make crepe paper flowers
Create a crepe paper rose
Work with the grain in crepe paper
Stretch crepe paper
Use paper flower patterns
Cut crepe paper
Cut crepe paper petals
Form crepe paper petals
Ruffle the edge of crepe paper petals
If you'd like to follow along with the template used in the video, click here. For all of our crepe paper flower projects, click here.
Again, thank you for your unending love and support! Share photos of your finished flowers with us using #LoveLia. Follow us on Instagram, Facebook and Twitter and consider becoming a Lia Griffith member to start crafting with us! Lots of love to you all. Always ~ Lia & Team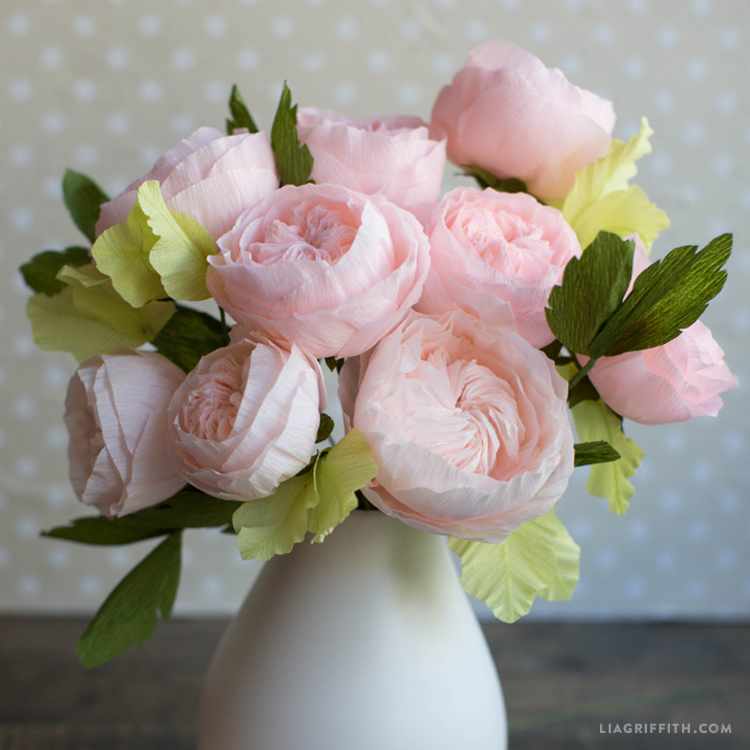 Save