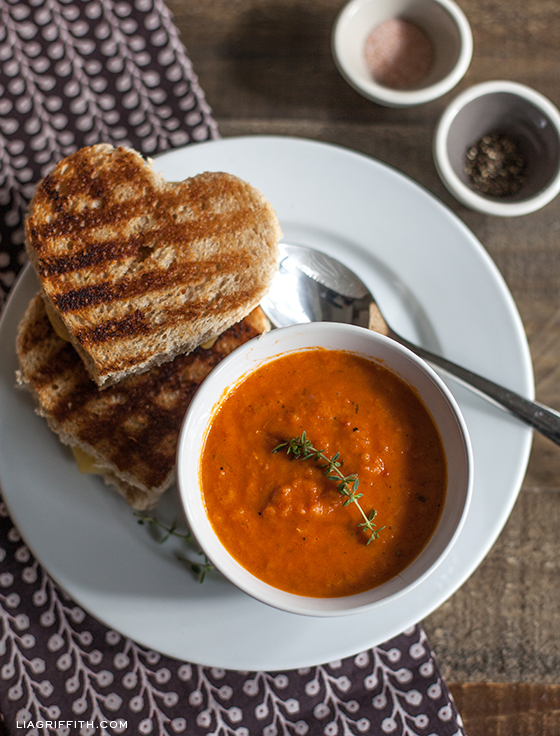 Happy Valentine's Day! If I could send each and everyone of you a valentine card I would do just that. Instead I am going to share one of my favorite soup recipes, perfect for today (and any day) with these heart shaped grilled sandwiches. This recipe is my own twist to a much loved local favorite from Elephant's Deli. Loving the taste, but not the effects on my digestion, I switched the heavy cream and butter to a healthier coconut version, and it is just as yummy! Here is the recipe:
Tomato-Orange Soup
2015-06-24 16:44:31
Serves 4
Ingredients
1/2 cup coconut oil (or butter)
1 med onion, diced
28 oz. diced tomatoes
2 tsps salt
1/2 tsp cracked black pepper
1/4 tsp baking soda
1 Tbsp fresh thyme (or 1 tsp of dried thyme)
1 cup fresh orange juice
1/2 cup coconut cream (or dairy cream)
2 tablespoons of orange zest
Instructions
Saute onions and coconut oil in pot until onions are transparent.
Add fresh thyme and let cook for 1 minute.
Place tomatoes and onion mixture into blender or food processor and pulse to desired texture. I like mine little bit chunky.
Pour back into the pot and add salt, pepper and baking soda.
Let simmer on medium heat for 5 minutes.
Stir in orange juice, coconut cream and orange zest.
Reheat and serve.
Lia Griffith https://liagriffith.com/