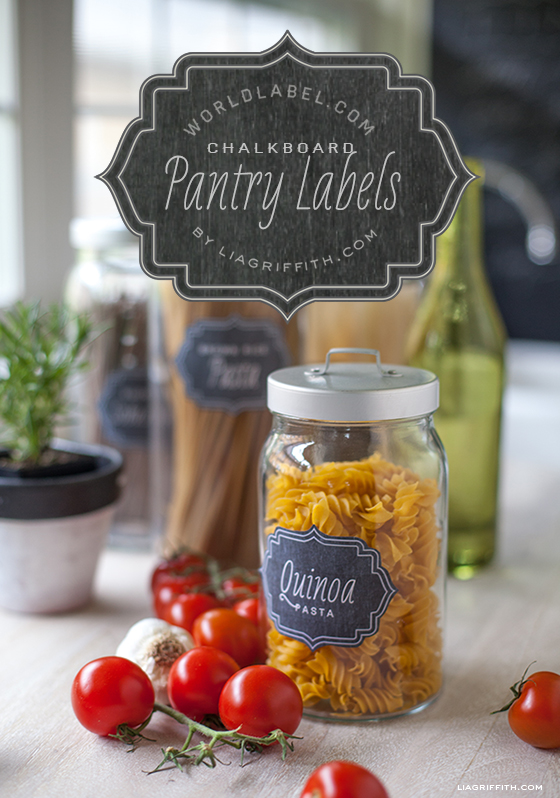 With the vintage chalkboard herb and spice jar labels being a big hit, my friends over at worldlabel.com generously invited me to share the coordinating pantry labels with their blog readers in addition to you all here.
I worked to make a full kit with a broad range of items for this vintage chalkboard pantry label design. I want you to have a label for every item in your pantry, right? I am wishing I could invite you all over to look inside my cupboards as it is the pantry I have always dreamed of. Organized, thorough and oh so stylish.
As some of you know, I am gluten-free. Of course I had to design another full kit to include the flours and pastas for all of those jars. It seems that more and more of us are giving up gluten so I had to share.
These labels are ready to print, trim and apply to all of your pantry jars. Each kit has the large, medium and mini sizes to fit any jar. All of these can be printed onto worldlabel.com full sheet labels. The labels are designed so that you can trim then as a rectangle or follow the bracket shape of the design. One tip I suggests is before you begin to trim the labels, peel and replace the backer so it will come off easily once you have cut your preferred shape. All the links for the downloads will take you to worldlabel.com where you can download them there. Thanks worldlabel.com for supporting the beauty on the inside of our kitchen cupboards! Cheers! ~ Lia
Get email updates delivered straight to your inbox.