Father's Day 2016 is officially less than a week away, but it's not too late to make something handmade for the occasion! If you need a little inspiration, here is a round up of all of my favorite last minute Father's Day projects, from gift ideas to party decor.
All parents, especially parents to younger children, love receiving homemade gifts from their kids. Homemade gifts are thoughtful and priceless and something that they can keep forever. Here are some DIY project ideas that are creative and safe for kids of all ages to make.
Treasure Box:
Kids can make a treasure box full of love notes and trinkets to appreciate Dad and all that he does. Pick up a basic wooden box at your local craft store along with some monogram letters that spell DAD. Paint the box and letters with acrylic paint in any color scheme, and add photos to the inside of the box for a beautiful sentimental gift.
Best Dad in the World Book:
Another great gift for little ones to give their dads is this DIY book all about Dad. Fill in each blank space with a fact about Dad, then draw a picture of him to complete the book. It is a chance for kids to reflect on the importance of their relationship, and they get to use their right and left brain to appreciate Dad.
Fishing Bobber Keychain:
Our fishing bobber keychain is a DIY gift idea that is perfect for dads who are fishing enthusiasts. Giving Dad a functional gift like a keychain means that he will be reminded of the kids and the effort they put into making this DIY every time he uses his keys. All you need for this easy project is some wooden beads, acrylic paint, and leather cording!
Bow Tie Father's Day Card:
If you want to pair a greeting card with your Father's Day projects, our 3D bow tie card is a fantastic and safe option for kids to add their unique creative spin to a basic card. Print the card onto card stock and choose between four patterns of bow ties to add to your card. Kids can use colored pencils, crayons, or markers to personalize their card for Dad.
I love being able to create fun kids projects that can help them explore their creativity, but gift giving on Father's Day is a bit of a different ballgame when you are an adult trying to find presents for your dad. I know it can be tough to shop for Dad, so here are some of my favorite DIY Father's Day projects for older children or adults to give their dads.
Felt Tablet Cover:
Our felt tablet cover is understated and stylish, making it perfect for the working dad. Our iPad case tutorial shows you how to make a cover for any size of tablet, and includes the instructions for a convenient pocket on the front of the case for loose notes and business cards. You can customize the case with any color of felt or type of button, and it can easily be handsewn or made with a sewing machine.
BBQ King Apron:
Of course we had to make Father's Day projects for the grill masters in our lives, and these DIY aprons are a great way to celebrate his grilling skills. Use our BBQ King and grilling tongs iron-ons to make an apron in your dad's favorite color. There is an SVG version available for those who have a cutting machine, and a PDF if you are cutting by hand. We even have a separate tutorial to sew your own apron with a sewing machine!
Doneness Poster:
Our printable doneness poster is a great wall hanging to pair with your DIY apron gift. This poster is fantastic reminder of how to tell when meat is medium rare (or medium or medium well), and creating a wall print means that you can hang it right next to your grill. Print it onto 11 x 17 card stock, or laminate it to make it weather-proof.
Pint Glasses:
If your dad is a beer drinker, he will appreciate this witty pint glass set. While some Father's Day projects are heartwarming and sentimental, some are meant to (affectionately!) poke fun at Dad. These glasses read "World's Okayest Dad" and "You Did Your Best" with nautical anchor and sailor's knot designs that you can add to the glasses. Give these to dads who love a good joke with their IPA!
Once you have finished your Father's Day projects, download some of our papers and tags to wrap your presents with love.
Nautical Gift Wrap Set:
Our newest gift wrap set is nautical themed, which means a gender neutral color scheme that fits with all kinds of occasions! Add these gift tags to your present to complete your pretty package.
Black and Taupe Gift Wrap:
For a more masculine paper, our black and taupe gift wrap set has lots of variety in paper and tags. This paper looks great with neutral colored or metallic bows for an extra touch.
Orange and Navy Gift Wrap:
According to color theory, burnt orange and navy are complementary colors, and when combined they make for fabulous gift wrap! This Father's Day gift wrap set includes gift tags that read "No 1 Dad" and "Happy Father's Day" specifically for the occasion.
Simple and Classic Father's Day Cards:
Our simple and classic Father's Day cards are a great pairing with any of our Father's Day projects. I particularly love this card because it includes a design that reads "You Are Like a Father to Me", so it can be used for all sorts of relationship dynamics. These cards also come with a stylish black and white striped printable envelope!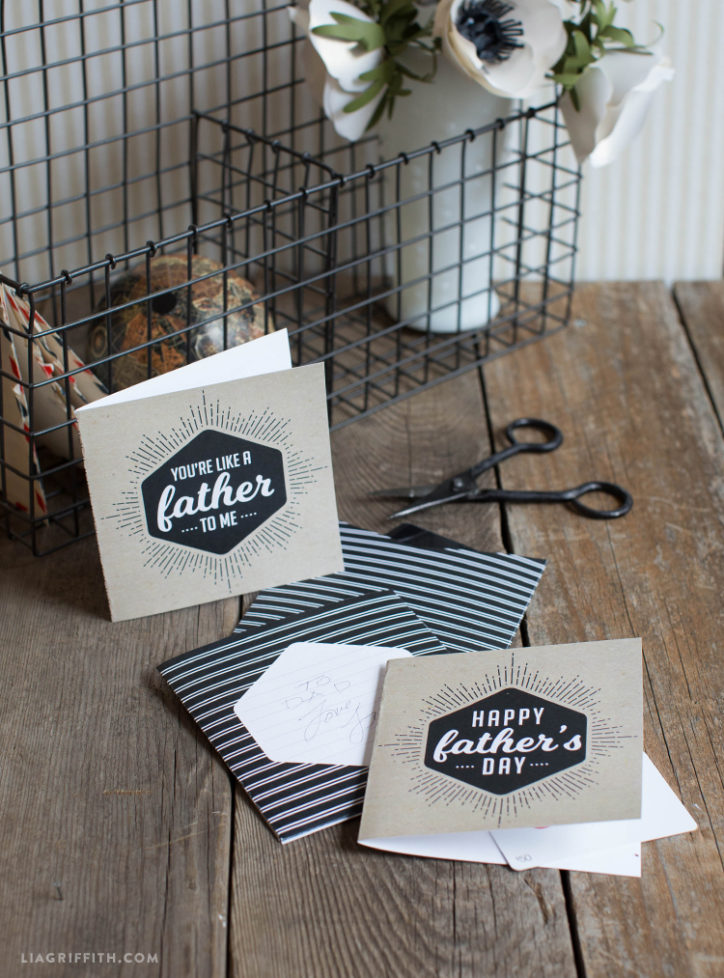 I hope you are feeling thoroughly inspired and are now in the gift-giving mood! We also have plenty of Father's Day projects that are fantastic for setting the tone for a celebration at home. If you are decorating your house for a Father's Day brunch or dinner, check out our printable Father's Day banner to hang around your table setting. Customize your kitchen or dining room table for the occasion by adding these coasters and iron-ons for napkins. Our moscow mule recipe also makes for a scrumptious boozy Father's Day treat. To browse all of our Father's Day projects, hop over here! Follow us on Instagram, Facebook, and Twitter for daily DIY inspiration, or you can always send your project suggestions in to us by emailing hello@liagriffith.com. Enjoy! ~ Lia